Luxury Vinyl Flooring in Raleigh, NC
Ever dreamed of having those stunning wood-look floors in your home, but hesitated due to the upkeep hassle of hardwood? No worries, because right here at Brentwood Carpets Flooring America in Raleigh, NC, we've got the perfect solution for you with our amazing luxury vinyl floors!
Picture this: all the charm of real hardwood, without worrying about stains or water damage. Our luxury vinyl flooring is top-notch, boasting state-of-the-art visuals that seamlessly mimic the genuine hardwood appearance you've always desired. And let's not forget their unbeatable durability, perfect for our lively, on-the-go lifestyles here in Raleigh.
Our team of flooring experts is nothing short of extraordinary. They're friendly and approachable and armed with extensive product and brand knowledge. They'll gladly help you navigate our impressive selection, ensuring you find the ideal design that complements your home decor flawlessly.
We're proud to invite you to our vast showroom where you can explore our beautiful collections of luxury vinyl planks and tiles. Trust us; you'll be amazed by the wood-look and stone-look floors on display, all at a fraction of the cost you'd expect.
So what are you waiting for, Raleigh neighbors? Come to Brentwood Carpets Flooring America, and let's turn your dream of luxury vinyl floors into a reality!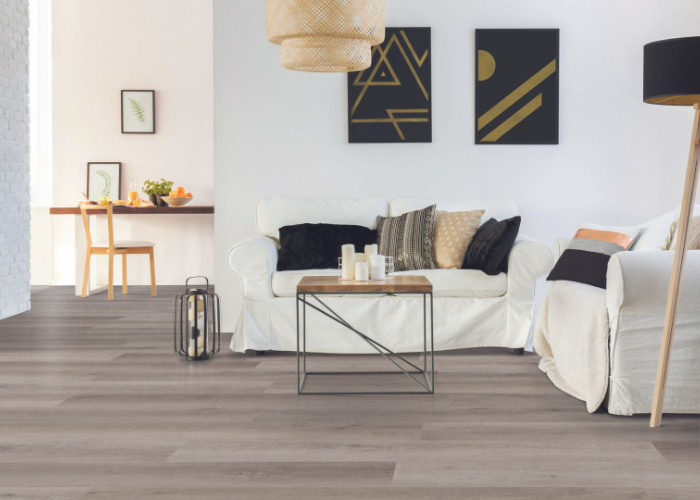 Types of Luxury Vinyl Flooring
Here at Brentwood Carpets Flooring America, we have two incredible types of luxury vinyl flooring that will blow you away: luxury vinyl plank and luxury vinyl tile. Trust us, these options are the real deal when it comes to durability and style for any room in your home. Let's dive in and learn more about them:
Luxury Vinyl Plank (LVP): Achieve that classic, elegant hardwood look without the hassle of maintenance and hefty price tags. Flawlessly mimics natural wood grain patterns and textures, adding warmth and charm to your space. Offers water resistance, perfect for handling spills and splashes. It's super tough and built to stay beautiful for years.
Luxury Vinyl Tile (LVT): If you prefer the look of natural stone or tile, LVT is your answer. Stunning resemblance to stone and tile flooring, making it ideal for bathrooms, kitchens, and moisture-prone areas. Authentic look and feel with excellent durability, ensuring a practical and budget-friendly luxury flooring option.
The Many Advantages of Luxury Vinyl
Luxury vinyl floors have incredible benefits and advantages that'll leave you happy with your floors for many years. Learn more about our luxury vinyl selection:
Dazzling Durability: When it comes to withstanding the wear and tear of our active Raleigh lifestyles, luxury vinyl is a champ! It's tough as nails and can handle foot traffic, pets, and even rowdy game nights without losing its charm.

Sensational Style: Get ready to swoon over the vast array of designs, colors, and patterns in luxury vinyl. Whether you're yearning for the look of elegant hardwood or the allure of natural stone, we've got it all! You'll find the perfect match to complement your home's unique vibe.

Water Warrior: With our fair share of rainy days and poolside splashes, water resistance is a game-changer. Luxury vinyl flooring won't let spills or moisture dampen its spirits, making it ideal for kitchens, bathrooms, and any other area prone to moisture.

Easy Maintenance: Cleaning your floors shouldn't be a chore, and it's a breeze with luxury vinyl! A quick sweep and occasional mop will keep your floors looking fabulous, leaving you more time to enjoy our wonderful city.

Budget-Friendly Brilliance: Who says luxury has to break the bank? With luxury vinyl, you can achieve a high-end look without the hefty price tag. Your home will shine like a star without emptying your pockets.
Waterproof Luxury Vinyl Flooring
Our waterproof luxury vinyl flooring options are perfect for homeowners who want that added layer of protection in high-moisture areas like bathrooms, basements, and kitchens. No need to worry about water wreaking havoc on your floors - our luxury vinyl can handle it like a champ, without warping, bucking, or losing its charm.
We've got you covered with LVP and LVT, featuring a waterproof core that adds that extra level of defense against any potential damage. Our team of experienced flooring experts is here to guide you through the process and help you find the perfect waterproof luxury vinyl flooring option that matches your needs and style. Embrace the beauty and protection of luxury vinyl in every room of your home!
Expert Luxury Vinyl Flooring Installation
You can save money and time by hiring our professional installer team to install your luxury vinyl floors. You don't want to risk your flooring with an inexperienced installer, as a simple error can result in years of damage down the road. Our installers are guaranteed to meet your standards. They'll also repair the floors for free if there's a fault in the workmanship. They arrive with the necessary tools and resources to make installing your new luxury vinyl floors a breeze. With a simple click-and-lock system, installing your luxury vinyl floors takes almost no time, and you can begin living on them immediately. Our commitment to customer satisfaction is supported by our Adore Your Floors Guarantee, which ensures that any installation errors will be repaired at no cost to you.


Contact us today at Brentwood Carpets in Raleigh and let our experts help you find your beautiful new luxury vinyl floors. Our flooring experts proudly serve Raleigh, Wake Forest, Rolesville, Youngsville, and Louisburg, North Carolina.