Laminate Flooring in Raleigh, NC
You can transform your commercial space or home with beautiful new laminate flooring from Brentwood Carpets Flooring America. You'll find examples of some of the most durable flooring selections at our showroom in Raleigh, NC. Never fear the price tag when one of our laminate materials can give you the same brilliance as hardwood for a fraction of the cost. Our laminate flooring selection is the perfect compromise between low-maintenance and high-performance flooring, designed to improve comfort, style, and practicality.
Count on our knowledgeable flooring experts to help you navigate our vast range of trustworthy, beautiful flooring solutions. After you've made your final choice, our installation professionals can handle the job for you. Our designers can help you broaden your creative horizons by providing a wide range of colors and textures to pick from. Thanks to our nationwide buying power, we only supply high-quality brands from leading manufacturers, so you know you are getting the best flooring on the market.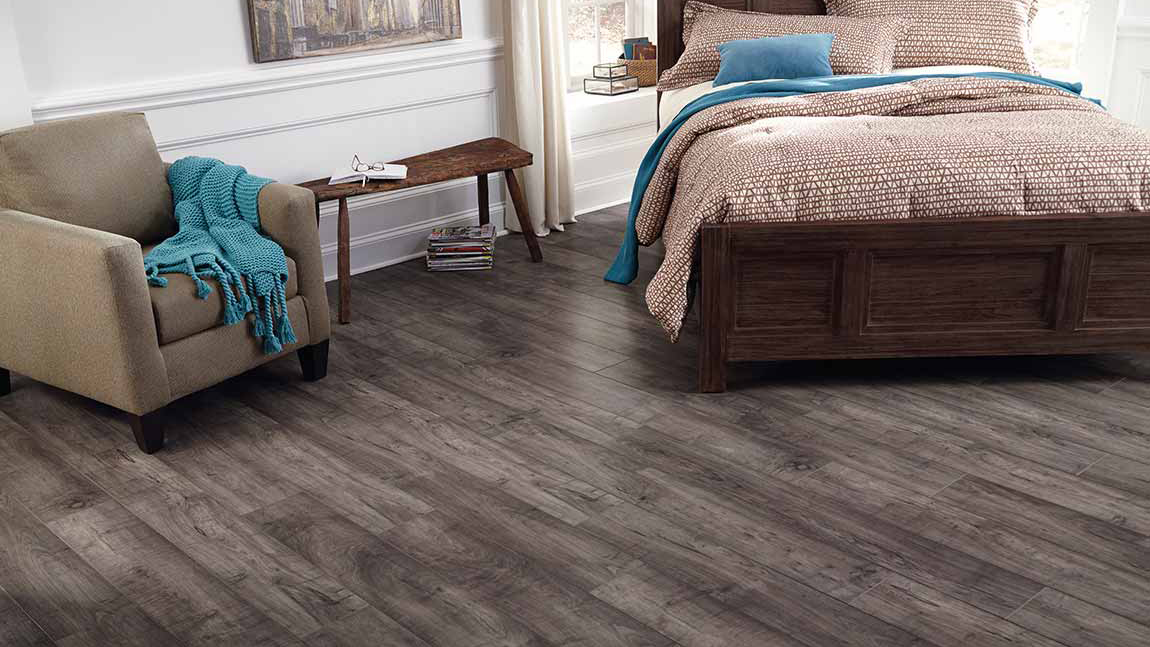 Understanding Laminate Flooring
Laminate is made in two methods: the direct or high-pressure method. Both ways produce strong laminate flooring that will last for years. Learn more about each method:
The

direct-pressure method

fuses all four laminate layers at once. This method makes the most affordable and common types of laminate flooring.

The

high-pressure method

combines laminate layers one at a time with higher amounts of weighted pressure and heat to produce the most durable forms of laminate flooring, making it ideal for commercial spaces.
Laminate Flooring Styles
Every home or business has a different sense of design, which is why we offer a wide variety of laminate flooring to match any space. We proudly carry two types of laminate wood flooring and tile flooring. Whichever you choose, both tile-look flooring and wood-look flooring are ideal choices you will love for years to come. Learn more about laminate flooring styles:
Laminate Wood Flooring

: If you dream of beautiful oak floors but your lifestyle and budget are incompatible, wood laminate flooring is the perfect substitute. This flooring combines the look and feel of natural wood with all the benefits of laminate flooring.

Laminate Tile Flooring

: While traditional tile flooring is an elegant addition to any project, many customers find tile laminate flooring better meets their budget and functional needs. Tile laminate is a popular choice for bathrooms, offering the tile aesthetic with a waterproof & scratch-proof seal.
Laminate's Many Benefits
Laminate is an increasingly popular flooring choice due to its many functional advantages and its style versatility. Laminate has become a favorite for active households as an impressive and convincing alternative to high-end floorings such as hardwood and tile. If you are interested in laminate, here are the benefits of using laminate floors in your home:
Manufactured to be highly

durable and resilient

.

Hygienic

and easy to keep clean.

Realistically mimics

hardwood and tile.

Scratch and

water-resistant

.

Affordable

and less expensive than its traditional alternatives.

Comes in a

variety of styles and colors

.

Keeping Your Laminate Clean
When it comes to cleaning and maintenance, a laminate floor is quick and easy. Most spills and messes can be easily wiped away with a damp mop or cloth. Give your laminate floor a quick sweep or vacuum if you notice and dirt or debris building up. It's as simple as that - no special polishes, waxes, or expensive product necessary when you invest in this hassle-free flooring. Easily protect your flooring so it lasts for years. You can also keep your laminate in pristine condition with these helpful tips:
Wipe up spills as soon as they occur.

Place a mat at the front and back doors to collect dirt

Use floor protectors under the legs of couches, tables, and chairs to ease the weight.

Pick up furniture that needs to be moved, instead of sliding it across the floor.

Make sure your pets' nails are trimmed.
Professional Laminate Flooring Installation
The key to your investment's beauty and proper functioning is accurate installation. Instead of spending time and resources looking for a qualified installer, please take advantage of a professional floor installation from our in-house team. Our expert technicians have the skills and experience to install every piece of laminate in a single room properly or the whole house. Rather than researching how to install laminate flooring, let us take care of the hassle based on your schedule. Our promise of a quality job is backed by our Ultimate Confidence Guarantee, which assures any necessary repairs relating to installation are free of charge within 30 days. With a simple click system of installation, our team can perform the renovation promptly to avoid any household interruptions.
Contact us to get started with your flooring upgrade. We proudly serve clients throughout Wake Forest, Rolesville, Youngsville, Louisburg, Garner, Chapel Hill, Durham, and Brentwood, North Carolina.