Hardwood Flooring Store in Raleigh, NC
Transform the look of your home's interior with the beauty of genuine hardwood flooring. Look no further than Brentwood Carpets Flooring America, where you'll find a wide range of elegant hardwood floors. Our team of flooring specialists is dedicated to meeting your specific needs, ensuring that you discover the perfect floors that match your desired style, performance requirements, and budget.
Your home is a special place where you create cherished memories, so investing in stunning hardwood floors from our local flooring store in Raleigh, NC, is a smart choice. Let us help you choose a hardwood floor that enhances the visual appeal and adds value to your home. We offer an impressive selection of hardwood from the best brands in the industry, with various finishes to perfectly complement your existing decor. Once you've decided, you can trust us to handle the entire hardwood flooring installation process carefully and professionally.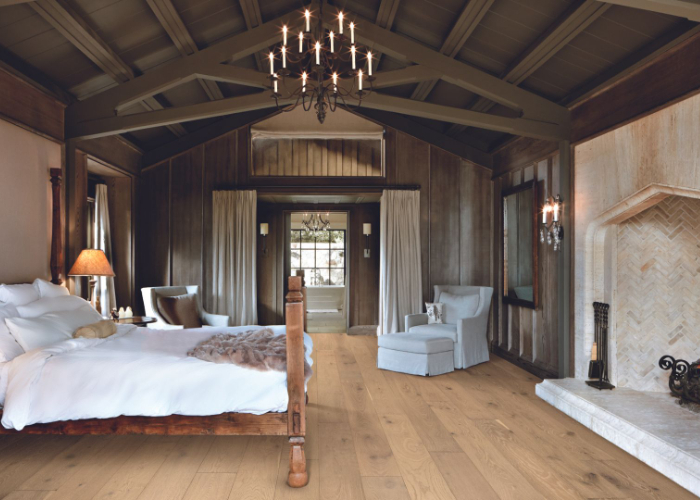 Types of Hardwood Floors
Discover the various hardwood flooring options available at Brentwood Carpets Flooring America. As the preferred choice for Raleigh, NC, locals, we only offer the finest hardwood flooring selections, including:
Solid Hardwood: Experience the timeless beauty of solid hardwood flooring. Each plank is crafted from a single piece of genuine hardwood, providing a natural and authentic look. With its sturdy construction, solid hardwood can withstand the test of time. You can choose from satin, matte, or gloss finishes to match your style. It's an excellent choice for bedrooms, living rooms, dining rooms, and hallways, as long as proper care is taken to maintain longevity.
Engineered Hardwood: Engineered hardwood flooring is constructed using multiple layers of wood, with a premium hardwood veneer on top. This unique design offers enhanced durability and resistance to moisture, water, and humidity compared to solid hardwood. If you're considering below-grade installations with common dampness, engineered hardwood is an ideal choice. It's particularly suitable for kitchens, bathrooms, and basements, providing both style and practicality.
The Benefits of Choosing Hardwood Flooring
Hardwood flooring has been a popular choice for homeowners for a long time, and it's not hard to see why. Here are some great reasons why you should consider hardwood floors in your home:
Beautiful Appearance: Hardwood floors bring any room a natural and elegant look. They add warmth, sophistication, and a touch of luxury. With different types of wood, patterns, and finishes, you can easily find the perfect hardwood flooring to match your style and make your home look amazing.
Durability and Longevity: Hardwood floors are known for their strength and durability. They can withstand everyday wear and tear and last a long time. Even with regular use, hardwood floors keep their beauty and charm for many years, making them a smart investment.
Easy to Maintain: Hardwood floors are relatively easy to care for, unlike other flooring types. Regular sweeping or vacuuming and occasional mopping using a mild cleaner is usually enough to keep them clean and looking their best. This makes them a convenient choice for busy households.
Value for Your Home: Hardwood flooring is not only beautiful, but it can also increase the value of your home. If you decide to sell, hardwood floors appeal to potential buyers and make your home more desirable. It's a smart investment that adds to the overall worth of your property.
Improved Air Quality: Choosing hardwood floors can also contribute to better indoor air quality. Unlike carpets that can trap dust, allergens, and pet dander, hardwood floors don't hold onto these particles. This makes maintaining a clean and healthier environment easier, especially if you or your family members have allergies or respiratory issues.
Hardwood Flooring and Raleigh's Humidity
When choosing flooring in Raleigh, NC, where humidity is a constant factor, hardwood floors emerge as an excellent option. Despite the moisture-rich environment, hardwood flooring can withstand Raleigh's high humidity levels with proper care.
Engineered hardwood flooring, specifically designed with layered construction, offers enhanced resistance to moisture and humidity compared to solid hardwood. Its cross-directional lamination provides stability, minimizing the risk of expansion and contraction caused by changes in humidity. This makes engineered hardwood a reliable choice for areas prone to dampness like bathrooms, basements, and kitchens.
Ensuring proper acclimation and professional installation is essential for long-lasting performance. Allowing hardwood planks to acclimate to the indoor environment and enlisting expert installation helps mitigate the impact of humidity on the floors. Implementing humidity control measures, such as using dehumidifiers and maintaining adequate ventilation, further supports the durability of hardwood floors in Raleigh's climate. With the right hardwood flooring, meticulous installation, and humidity management, Raleigh homeowners can enjoy hardwood floors' timeless beauty without concerns about humidity-related issues.
Professional Hardwood Flooring Installation
Trust our certified hardwood flooring installation professionals to install your brand-new hardwood flooring. We properly remove your old floors and replace them with the hardwood floors of your choice. From smooth and glossy to rugged and matte, we make your interior design visions come to life. You won't have to worry about us doing the job halfway when you hire our company. Our trained flooring professionals deliver superior installation services and customer care on every job we take on. We take great pride in our work, which shows in everything we do. After all, our customers are our greatest asset.
Our installations are backed by the Adore Your Floor Guarantee, which satisfies you completely. We pledge that our detailed craftsmanship will make your design aspirations come true. If you become dissatisfied after your floor is installed you wish to change your Room to Explore floor to a different style or color, your Flooring America retailer will replace your existing Room to Explore floor with another Room to Explore flooring product of your choice, subject to the following terms.

Contact us when you need high-quality hardwood flooring. We serve our customers in Raleigh, Wake Forest, Rolesville, Youngsville, and Louisburg, North Carolina.