Hardwood Flooring in Raleigh, NC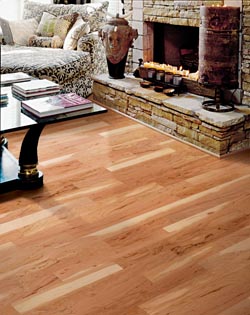 Upgrade the interior of your home the addition of genuine hardwood flooring in Raleigh. Choose our local flooring store as your go-to source for a broad selection of sophisticated wood floors. Our flooring experts always keep your requirements in mind so you are sure to get the floors that best fit your needs in looks, performance, and price. We help you find a floor that complements your home, whether you prefer a traditional or modern aesthetic.
You spend a lot of time in your home, creating memories with your loved ones throughout the years. Invest in your home with beautiful hardwood floors from our reputable flooring store. We are here to help you select a hardwood floor that elevates the appeal and value of your residential structure. From cherry and hickory, to maple and oak, we have the right finish to complement your interiors. Once you've selected a floor, we'll handle the hardwood flooring installation process for you.
Solid Hardwood Flooring vs. Engineered Hardwood Flooring
Find the answers you seek when considering an upgrade to hardwood floors. Our flooring professionals are committed to ensuring that you are educated about the differences between solid and engineered wood floors.
Solid Hardwood Flooring — Make a long-term investment with solid wood floors in Raleigh. Solid wood offers an unrivaled aesthetic that instantly adds class and refinement to any residential space. Floors can be refinished years later for a completely new aesthetic that restores that showroom sheen.

Engineered Hardwood Flooring — Choose engineered wood floors in Raleigh for strength and durability. Constructed of multiple layers, engineered hardwood is designed to withstand moderate to heavy foot traffic. As with solid wood floors, engineered hardwood is available in an array of finishes, glosses, and styles.


We want you to be satisfied with your floors. In addition to solid and engineered hardwood, our company also offers a range of other options, including bamboo and cork. In order for you to find the flooring choice of your dreams, we have to offer an outstanding flooring selection. That's why we place such an emphasis on providing our customers with a wide variety of flooring products to browse. We believe that every homeowner deserves the chance to find his or her perfect floor. Get in touch with us today for more information regarding our large flooring selection.
Convenient Hardwood Flooring Installation Services
Trust in our certified hardwood flooring installation professionals to install your brand-new hardwood flooring. We properly remove your old floors and replace them with the hardwood floors of your choice. From smooth and glossy to rugged and matte, we make your interior design visions come to life. When you hire our company, you won't have to worry about us doing the job halfway. Our trained flooring professionals deliver superior installation services and customer care on every job we take on. We take great pride in our work, at it shows in everything we do. After all, our customers are our greatest asset.
Save money and prevent headaches down the line when you hire an experienced and reliable company the first time. That level of expertise and dependability is exactly what our flooring professionals bring to the table on every job. We look forward to exceeding your expectations.
Contact us when you need high-quality hardwood flooring. We serve our customers in Raleigh, Wake Forest, Rolesville, Youngsville, and Louisburg, North Carolina.