Area Rugs - Raleigh & Cary, NC
Looking for a simple way to add style and elegance to your home? You might want to consider getting area rugs. Rugs can be usedto add a burst of color to your interiors. With ornamental area rugs, homes can easily look more appealing and unique.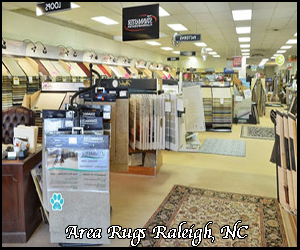 Integrating Area Rugs Into Home Designs
Giving a room a new coat of paint or new flooring will change its look and feel, albeit in a costly manner. With area rugs, you can make an improvement even with a limited budget.
You'd be surprised at how much of an impact an area rug can make in transforming a space. You can also never underestimate the flexibility of area rugs. Homeowners may choose to change the feel of a room by replacing the rugs with each season or depending on their preference.
Practical Benefits of Having Area Rugs in Your Home
When incorporating area rugs into your home designs, keep in mind that these pieces are more than just decorative elements; they can also be functional. Here are several reasons why it's a good idea to have area rugs in your home.
Area Rugs Provide Underfoot Comfort
Area rugs in homes with tile floors provide a warm and soft protection for the feet. If you or your family members tend to walk around the house barefoot, a well-placed area rug can give that underfoot comfort.
Area Rugs Serve as Floor Cushion
If you have little children in the house, an area rug will provide cushion in case they trip or fall. It is also great to have area rugs in households that have elderly members; the rugs can serve as buffers in the event of an accidental slip.
Area Rugs Help Reduce Noise
Hard surfaces do not absorb sound in the same way thatrugs do. Having area rugs on top of floors that have solid, concrete surfaces can help absorb and reduce noises from speakers, televisions, and other appliances.
With shag area rugs, homeowners can muffle the noise and vibration of their footsteps. This is useful if you live on the upper floor and you don't want to annoy your neighbors downstairs.
With area rugs, multifunctional rooms can be "divided" into organized zones. For example, having a posh area rug surrounded by sofas will create a simple lounge area visually separated from the dining or office space.
Area Rugs Provide Stable Surface for Furniture
With area rugs, homeowners can have a non-slippery, stable surface for their furniture. This will help secure, say, the ceramic vasesor figurines on top of tables and keep them from knocking over after a slight bump.
Area Rugs Protect the Floor
Another great benefit of area rugs is that it protects the floor from spills and stains. An area rug can also help lessen the impact of dropped or falling objects.
Choosing the Best Area Rugs for Your Home
When decorating with area rugs, you should keep in mind some important steps. First, the rug should complement the rest of the pieces in the room. If you have a round center table, for example, consider choosing a round area rug as well.
When it comes to patterned area rugs, you should consider if there are patterned walls or furniture in the room. If so, a subtly patterned rug would be the best choice. You can view tips on selecting area rugs here:https://www.hgtv.com/design/decorating/furniture-and-accessories/stylish-floors-decorating-with-area-rugs-pictures
If you are going to search for area rugs in Raleigh, NC, look no further than Brentwood Flooring America. We take pride in having a fine selection of attractive area rugs ranging from contemporary to traditional. Give us a call or visit our showroom to learn more.
Brentwood Flooring America: Providing Flooring Services for More Than 38 Years
In home decor, the flooring brings the whole room together. This is why you'll want the flooring that goes well with your home's other design elements. In search of the ideal flooring for your house, turn to Brentwood Flooring America. Our team has a solid background in flooring installation, and we'll work tirelessly to bring your vision for your house's flooring to reality.
Brentwood Flooring America is a locally-owned-and-operated flooring business founded in 1974. We have served the various carpet and flooring needs of homeowners in Raleigh, Cary, Wake Forest, Rolesville, Youngsville, Louisburg, Garner, Apex, Holly Springs, Chapel Hill, Durham, and the Brentwood subdivision, where we started.
Our staff has always had one chief goal: to deliver the best possible service to residents in the NC Triangle. With this in mind, we tackle every project in the best interests of our clients and with the utmost care and precision. In fact, some of our present clients are the children and grandchildren of our first. This sense of loyalty we've fostered among our clients is a testament to the uncompromising quality of our service.
What We Do
Given that your floor takes the brunt of your everyday activities, you should invest in a flooring option that offers unparalleled durability and long-term benefits. Delivering exactly that solution is our job at Brentwood Flooring America. You can rely on us for the following:
Residential and Commercial Flooring
We take on both residential and commercial flooring projects. Our professionals are experienced in installing a range of flooring choices, including:
Carpets

Ceramic Tiles

Hardwoods

Laminates

Luxury Vinyl Tiles

Rugs and Area Rugs

WPC-Waterproof Planks, Tiles, and Carpets
Indoor and Outdoor Flooring
We can complete both interior and exterior flooring projects. Whether you need floor covering for porches, sunrooms, decks, or pool areas, you can count on us to provide the resources you require. Our products are sourced from Beaulieu and Shaw, both of which are reputable flooring protection companies. Click here to learn more about our indoor and outdoor flooring services. https://www.brentwoodcarpetsraleigh.com/indoor-outdoor-flooring/
Raleigh's and Cary's Most Trusted Flooring Experts
At Brentwood Flooring America, we make a serious investment in our staff through extensive training. By further harnessing the skills of our sales team and installation department members, we can make sure that we deliver nothing but the best to our clients.
Should you require assistance in finding the suitable flooring material for your space, depend on our sales representatives. They are knowledgeable of a wide array of flooring options, a quality that they canleverage in helping locate just the product you're looking for. Meanwhile, our installation specialists are equipped with the technology and education necessary to produce top-tier results.
A Community-Focused Flooring Company
Brentwood Flooring America is not just your average flooring company; we're also deeply connected to our communities. We're proud members—the only ones in the Triangle—of the World Floor Covering Association, the national governing body for proper floor covering installation. Our team also stays active in communities through participation in the Raleigh and Cary Chambers of Commerce as well as the Home Builders Associations of Wake County.
In expanding our horizons, we have recently joined Flooring America and gained access to wider selections of flooring resources.All these affiliations have enabled us to grow as a business and deliver services and products that can't be matched anywhere else.
Clients We Work With
Our client and customer base is not limited to homeowners. We're also willing to put our experience to work for individuals such as:
Commercial Property Managers

Contractors

Home Builders

Interior Decorators

Multifamily Buildings

Realtors

Remodelers

Residential and Commercial Property Owners
Let Brentwood Flooring America Handle Your Next Flooring Project
Do you need help in installing flooring for your interior or outdoor living space? Hire us at Brentwood Flooring America! Our team is composed of talented professionals, and we'll go the extra mile to finish yourproject within your budget and on time. Get in touch with us at 919-887-8716 (Raleigh, NC) or 919-371-2478 (Cary, NC) to learn more.